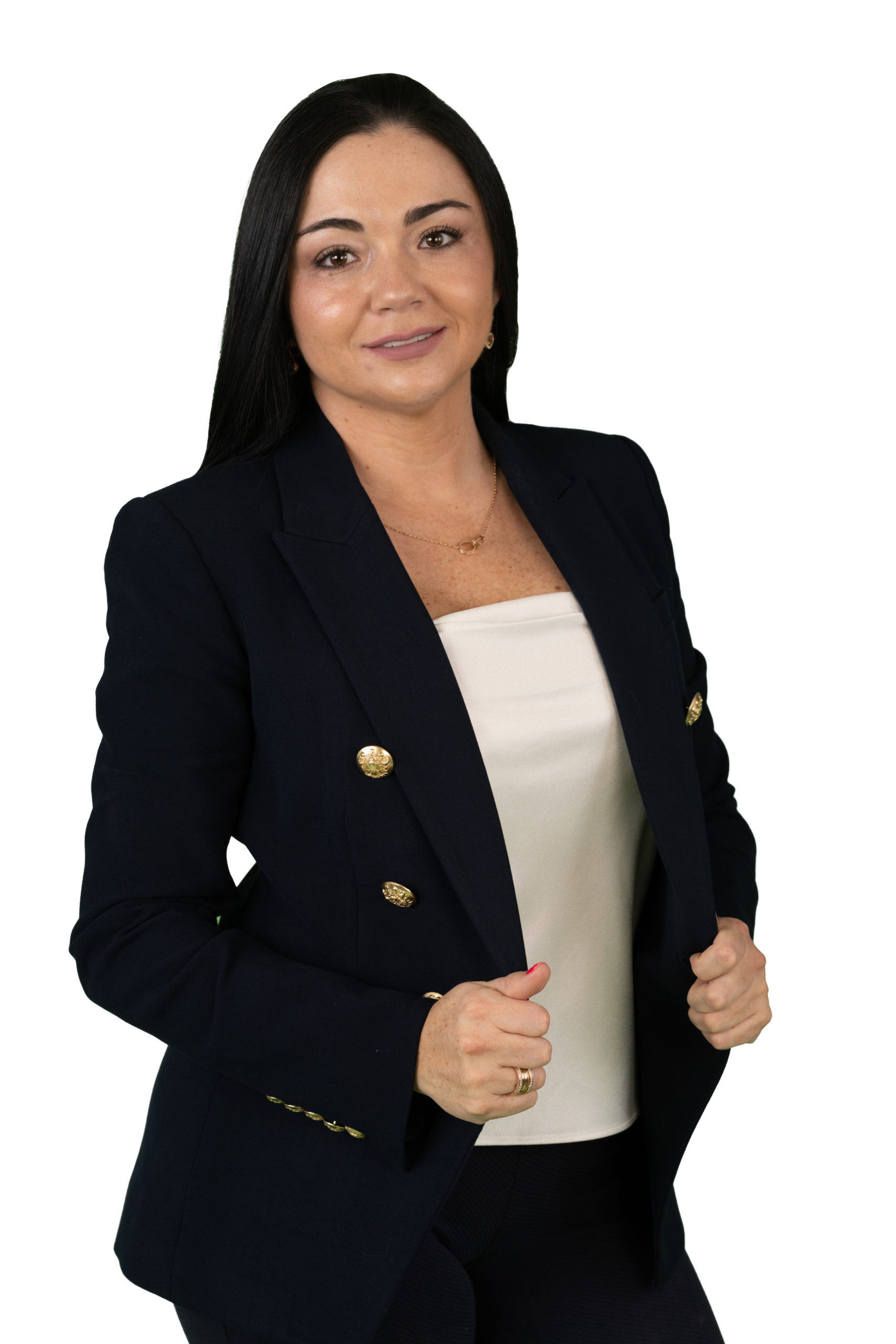 Luisa Bedoya
Vice President / Senior Mortgage Planner
Luisa Bedoya is a hands-on relationship builder whose priority is helping people in her community get into their ideal home. She has a unique way of forming an environment of understanding for her borrowers and gives them realistic expectations.
Luisa recognizes that Hispanics are the fastest growing segment of the U.S. population and has built her career capitalizing on this untapped market for home ownership. She engages the Hispanic community by educating and developing alternative ways to qualify for a home loan. Luisa looks at each case with a human approach and personal attention.
Luisa is rated No. 1 in Revere, MA and East Boston, MA and has sat in this seat comfortably for the past three years. She was also named the No. 1 Latino mortgage originator in New England for 2017.
Luisa enjoys spending time with her family. She also enjoys her work with St. Jude's Hospital, a treatment center for children with cancer.
 

 

 

   

 

  

 

 

  

 

 stephanie velasquez 

 

December 22, 2022.

 

 

 

 

Luisa and her team went above and beyond to make buying our first home an incredible easy and straightforward process. They were on top of all emails and quick to respond if we ever had any questions. The level of care, attention to details and professionalism demonstrated by Luisa and her team far surpassed my expectations. I will be using MSA mortgage going forward on our future transactions.
Luisa and her team Rocked it!! Thank you again for making our dream a reality.

  

 

  

 

 

  

 

 Jose Ortiz 

 

December 20, 2022.

 

 

 

 

Luisa and her team was great to work with. She explained the process extremely well and was very quick with responses when we had questions. Her numbers to our final numbers were ON POINT to what she said we were going to be at when finally done.

  

 

  

 

 

  

 

 Tanya Martinez 

 

December 10, 2022.

 

 

 

 

My husband and I are so happy with the service we received from MSA Mortgage (Luisa, Tatiana, and Daniela). The entire team did an excellent job making sure that everything was in order and moving smoothly. We loved the constant communication via email, text, and calls to keep us informed and answer any questions. They worked awesome with my real estate agent's team and lawyers, and kept me in the loop about everything! We couldn't be more pleased!

  

 

  

 

 

  

 

 Reyna Ayala 

 

November 5, 2022.

 

 

 

 

I have a great experience with Luisa Bedoya. She helped us through out all the experience in buying a house. She guided us and gave us all the tips when buying a house. We really recommend Luisa and her team to help you and guide you to buying a new house. She puts a lot of effort on all her costumers and makes sure everything goes good with everybody's house.

  

 

  

 

 

  

 

 María Martinez 

 

October 28, 2022.

 

 

 

 

Excelente en el trabajo durante todo el proceso muy profesional yo se las recomiendo

  

 

  

 

 

  

 

 Joseline Argueta 

 

October 28, 2022.

 

 

 

 

Thank you to the MSA Mortgage team! Specially Luisa Bedoya and Daniela Velasquez for making possible our dream as first-time home buyers. Their dedication and excellent work speaks for itself.

  

 

  

 

 

  

 

 Geraldin Rodríguez 

 

October 26, 2022.

 

 

 

 

Excelente servicio y amabilidad, todo el equipo muy pendiente de cada detalle y de todo lo que se necesita en el transcurso de compra. Mil gracias por todo

  

 

  

 

 

  

 

 Francis April 

 

October 24, 2022.

 

 

 

 

Luisa Bedoya The best Loan officer ! "I refer all my friends to her , and I trust her work so much. She do an exhaustive search to get you the best rate and find the best mortgage program available She even guided me every step of the way through a credit problem.
and offered me programs.

  

 

  

 

 

  

 

 Zuly Yazmin Lopera Osorno 

 

October 18, 2022.

 

 

 

 

"Todos tenemos sueños.  Convertir los sueños en realidad conlleva una imponente cantidad de determinación, dedicación y esfuerzo, contar con los servicios de MSA MORTGAGE, fue una contribución muy significativa en la compra de nuestra casa, el servicio que brindaron súpero nuestras expectativas, los esfuerzos que realizan para ofrecer  un trabajo de alta calidad, su atención proactiva, y su empatía con los clientes hicieron que nuestra compra fuera todo un éxito, su profesionalismo permitió que todo se ajustara a nuestras necesidades.  Hago llegar a ustedes mi cariño, mis sinceros agradecimientos y también expreso mi voluntad de hacer saber a mi familia, colegas  y amigos mi confianza hacia ustedes.  Nuevamente mil y mil gracias a este gran equipo que cada día convierte el sueño de muchas familias, en una bonita realidad.

"We all have dreams.  Turning dreams into reality takes an impressive amount of determination, dedication and effort, having the services of MSA MORTGAGE, was a very significant contribution in the purchase of our house, the service they provided exceeded our expectations, the efforts they made to offer high- quality work, their proactive attention, and their empathy with customers made our purchase a success, their professionalism allowed everything to be adjusted to our needs.  I send you my love, my sincere thanks and I also express my willingness to let my family, colleagues and friends know my trust in you.  Once again, thanks to this great team that every day turns the dream of many families into a beautiful reality.

  

 

  

 

 

  

 

 Liliana Yepes 

 

October 18, 2022.

 

 

 

 

Throughout this years I have been lucky to count with Luisa's services and advice as when to buy and refinance! Her whole team is there to assist you every step of the way to make the process as smooth as possible. Thank you so much for all your help!

  

 

  

 

  

 

 

   
---
 Latest Review. 

Dream came true!

 

For me is a pleasure to write a review about our wonderful Luisa Bedoya and her fantastic team of hard workers at MSA Mortgage. If I have more stars, I definitely give them all. They provide an outstanding and very professional customer service. Their expertise is well known, especially in the Latino community . Great communication in a timely basis. We as Realtors are lucky to have this great team as our Loan Officers !
Carlo Osorto
---
Luisa Bedoya is extremely knowledgeable, courteous, honest, and gorgeous. Very helpful to accommodate anyone in their specific mortgage needs regardless the situation in a timely manner. The best around and bilingual in the state of Massachusetts. I will definitely recommend her to everyone in the state. Thanks for everything and I will continue to work with her with refinancing and other types of mortgages. 5stars all the way.
Maria Petrakosky
---
I have nothing but great things to say about Luisa and her team. Since the first time we met she was always on top on everything. I was surprised to see how fast she was able to get my refinance done. I would recommend her to all of my family members and friends no doubt. Her team is excellent. For sure I'll be using her services in the future.
Yureidy Medina
---
I can't say enough good things about my experience of obtaining a mortgage with Luisa Bedoya and her team. Luisa is very knowledgeable, provides honest feedback and advice (which is something we appreciate) and made such a stressing process feel like a breeze, she always explaining the reason behind the documents she was requesting and made sure we completely understood the process. when you are getting into a 30 year commitment it is important to find someone you trust and Luisa and her team definitely will fulfill that requirement.
Mark White
---
Luisa and her team are the best in the business, hands down. Luisa has helped me personally with two loans, and both were cleared to close well ahead of schedule. I have also observed her help countless buyers and borrowers achieve their homeownership goals. Because of the effort they put in, Luisa and her team consistently exceed expectations in their competence, availability, communication and results. Quite frankly, their work ethic is peerless. I strongly recommend Luisa to anyone looking to purchase or refinance. She and her team will truly give you their best - and because of that - they will do an outstanding job for you.