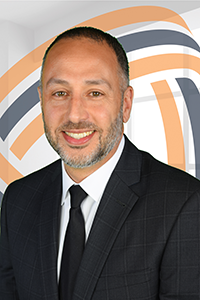 Jason Deeb
Vice President / Senior Mortgage Planner
As an alumnus of UMass Amherst, with a degree in Finance as well as Economics, I have the specialized skills and tools at my disposal to meet the lending needs of busy professionals throughout Greater Boston & New England. Throughout my career, I have specifically focused on guiding my clients through the loan process quickly and with as little stress as possible. Whether you're buying, selling, refinancing, or building your dream home, you need an experienced loan officer on your side to give you quick and accurate financial advice, when you need it.
Please take a moment to review the information on my website or complete an application and feel welcome to contact me anytime via phone, fax or email anytime with questions. After I receive your application, I will call you within 12 hours to discuss the details of your loan, or you may choose to set up an appointment with me using my online form.
My V-Card Use your phone's camera to save my contact details.
---
---
 Latest Review. 

Dream came true!

 

Jason Deeb has been a wonder to work with. He is true to his word and such devoted loan officer. He is super communicative and very responsive to all of the random questions I came up with. Since day one he transpired reliability and discipline at what he does. His attention to detail throughout the loan process proves how much he cares about his clients getting their dream home. If you need a home loan and don't not want to just be a number at a bigger bank Jason Deeb is the one. Jason is an expert in the mortgage business and my family and I will not hesitate to go back to him for any future loan needs. Jason it was a pleasure to work with you!

As a first time home buyer Jason was the most professional and reliable person we could have used to help us make this purchase. He explained the home buying process and was available to answer any questions we had 24/7. No question went unanswered and he has tremendous accountability. Jason came to our closing (not many brokers do) and was extremely professional. I would highly recommend Jason and look forward to working with him in the future.

Jason is simply the best I've ever come across. As a real-estate agent I always recommend him to my clients due to the knowledge and experience he brings to the table. He is great with any questions my clients or myself may ever have and always responds in a very timely manner. Additionally, he always comes in with a very low and competitive interest rate.

Jason Deeb is a mortgage consultant you can trust with time sensitive financing deals. He goes the extra mile without you asking. That level of intuition is hard to come by in this day and age and from my experience; it's extremely rare amongst the big banks…

Jason is Literally the Best mortgage broker I have ever dealt with. As an agent in The Boston area I work with a large number of Mortgage brokers, Every one of my clients who has ever used Jason Has been amazed at how smoothly the loan process went. Jason is extremely organized and detail oriented. On more then one occasion Jason was able to come in and save a loan for my clients with very little time to spare before closing . If your looking for an honest upfront mortgage broker look no further.

I came to Jason fairly late in the closing process, and because of that was a little nervous that everything wouldn't get done in time. After talking with Jason and getting him all the required paperwork, I realized I was in very good hands. Jason Deeb of MSA Mortgage is, without a doubt, one of the most knowledgeable and professional mortgage lenders I have ever dealt with. He treated my entire loan/closing process as if it was his own. I highly recommend Jason to anyone who wants a smooth and worry free loan application process. samlawjacobs, South Boston

Jason was very informative, responsive and helpful. Answered all my questions and made the whole process very easy…………………… Thanks Jason

Jason went out of his way to help me with my mortgage financing at very short notice and got me the best rate possible. He was extremely responsive to my questions/concerns as well as help address the sellers concerns. I would definitely recommend Jason with your financing needs!

Jason did a fantastic job getting our mortgage ready to close in a short amount of time. He also went above and beyond, by helping us find an affordable option for homeowners insurance, which saved us thousands. I would absolutely recommend him to anyone looking for top notch service!
---